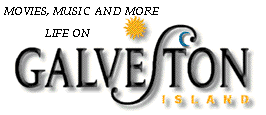 Galveston's East Beach is the coolest and biggest beach in Texas. Now famous for its greatest beach parties, East Beach has major outdoor concerts, special events, promotions, bikini contests, live bands, and other activities that are described in our 2001 Events Calendar.
Unlike most beaches, drinking is legal on East Beach. East Beach has a very cool pavilion that comes alive on weekends during the spring and summer. East Beach has restrooms, showers, food, video games, gifts, and a patio beach bar/band scene that's open on weekends May thru August.
Chairs and umbrellas are available for rent on weekends May thru August. East Beach is "Houston's Playground," located just 45 minutes south of the fourth largest city in America. So come get down, get funky and get loose on Galveston Island's East Beach. Mingle with the crowd or slip away to a quiet spot and chill out. East Beach holds about 7,000 cars on a huge wide open beach and is a perfect setting for ticketed outdoor concerts and festivals. East Beach welcomes national and local promoters, advertisers and beach enthusiasts.
Call 409.762.EAST
Calling all Webmasters....Let us pay you for referring affiliates to the LinkShare Network.